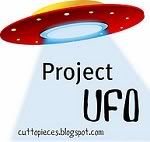 While I've been busy working away on my UFO's and turning them into FOs, you all have been finishing up some fab projects! Our little group is having fun motivating each other and taking gentle pokes at one another for our attachment to certain projects. But most of all, we've actually been accomplishing things! Here's a peak at some of the fabulous projects that the ladies have finished up.
Tiffany, A Crafty Fox
, finished the wonky Mendocino pillow on the right to match a pillow she received in the Pillow Talk swap. Love the colors in this!!
Katie of Swim, Bike, Quilt
made this darling Seahorse mini quilt. And I know that she has a couple of quilts that just need bindings! Woohoo!
Naomi of Linen & String
finished off this beautiful Zig Zag Quilt. But seriously...how cute are the little ones holding up the quilt?
and the back...
Amy, scruffycat1970
, finished this gorgeous black and white log cabin...and then artfully staged the picture with a black and white cat! ;)
finishedisbetterthanperfect, (I love that name by the way!) has been a very busy bee sewing on bindings to finish up multiple quilt tops. Each is more beautiful than the last!
Her Neptune Hexagon Quilt!
Her Fresh Flowers Quilt
and many more beautiful ones that aren't letting me grab them for some reason...but go check on them. She has shots of them on a snowy beach. Love it!
Quirky Granola Girl
was a trooper and plowed through the last of her string blocks for a gorgeous green nicey jane string quilt she has been working on.
I know it's not finished yet, but you can see how gorgeous it will be!
NavyRev
finished up this beautiful Ferris Wheel Quilt! What a fun design.
Jenniffier
has a couple of finishes with these pretty quilts! And more on the way! Way to go.
Her Kaleidoscope Quilt
and her charming table runner
oh there's more, there's more....and I know there are lots being worked on. I myself finally pushed and finished my last swoon block (I'm only doing 4 but that didn't stop me from stretching it out like I was making nine!) and soon I'll have that quilt finished. Yay! I'll show you that later though because we'll have a bit of fun with that I think. Hmm...now what does that mean?
If anyone wants to play along with us and finish up some projects with a cheerleading team behind you, you can join us in the flickr group,
CTP: Project UFO
.