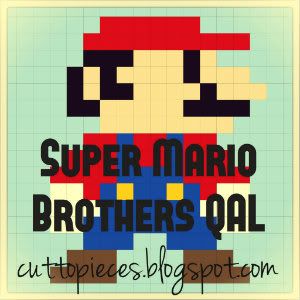 This is part of an ongoing series of posts for The Super Mario Brothers Quilt Along I'm hosting here on my blog. You can join in at any time! You will find the links to all steps in my top bar. Also please feel free to join the Super Mario Brothers Quilt Along Flickr Group.
♪do do da do. Da do da do...do do da do do do da do do do♪
Ready? It's
Shy Guy and Mushroom
time!
Mushrooms are your friends, but that shy guy isn't. You've got to watch out for them. I don't know about you but the Shy Guys remind me of the bad guys from Scream. A little creepy! But the mushrooms just make me smile. They only do happy things for you like give you extra lives or make you grow big and strong. Yay mushrooms!
These are the last three blocks in our QAL and I'm putting them all up today so that we can all catch up and get on to the sashing dimensions and directions. I know that there have been questions about that. I honestly want to get this quilt done by Christmas, so I'm sure some of you do as well.
You can download the PDF of the Shy Guy Block HERE , the Green Mushroom HERE, and the Red Mushroom HERE
If you are looking for other blocks from the quilt, look HERE.
Also, I've added all of the blocks as PDFs in Google Docs as so many people were having problems with Scribd. So you can also find the PDFs available
HERE
I can't wait to finish up the last three blocks!
But today is also a fun day, because we're going to try doing a linky party for everyone participating (I'm a little slow on the uptake....I probably should have been doing that all along. lol). So here's your chance to show off the quilts and blocks you all have been working on! Just follow the directions below and link up!
PS I just tried it out and it looks like you do NOT need a blog to link. You can link from a Flickr photo as well! Awesome!
Be sure to add your creations to the
flickr group
so we can all see how we are doing!